ON HOLD
This position has been filled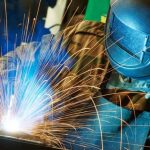 Website Squamish Personnel
We are looking for an experienced welder to join our client's family owned and operated metal fabrication company servicing the Sea to Sky corridor. Specializing in custom metal fabrication and design, from industrial work, unique interior artistic decor, to breathtaking landscape and architectural features. This is a fantastic opportunity to become part of a successful and growing company, and an enthusiastic and motivated team.
The Perfect Candidate:
High School Diploma, GED or equivalent.
4 CWB Positions.
Interprovincial Red Seal or CWB tickets.
Valid welding certification, Gas Metal Arc Welding (GMAW), Shielded Metal Arc Welding (SMAW), certified in all positions.
Possess a valid driver's license.
Ability to work independently in a busy environment.
Experience with routine maintenance operations.
Highly flexible, with solid interpersonal skills that allow one to work effectively in a diverse working environment.
Able to effectively communicate both verbally and in writing.
Able to work well under pressure.
Strong attention to detail.
Able to deal with people sensitively, tactfully, diplomatically, and professionally at all times.
Computer literate.
Responsibilities Include:
Read and interpret blueprints or welding process specifications.
Operate manual or semi-automatic welding equipment to fuse metal segments using processes such as gas tungsten arc welding (GTAW), gas metal arc welding (GMAW), flux-cored arc welding (FCAW), shielded metal arc welding (SMAW), oxy-acetylene welding (OAW), resistance welding and submerged arc welding (SAW).
Operate manual or semi-automatic flame-cutting equipment.
Operate brazing and soldering equipment.
Operate metal shaping machines such as brakes, shears and other metal straightening and bending machines.
Repair parts of metal products by welding on extra layers.
Maintain safe work practices.
Assist in development of repair estimates.
Conduct Technical Inspections.
Conduct repairs, modifications and retrofits.
Monitor parts usage and report on any material issues.
Prepare input for various management and log reports.
Provide data to assist in monitoring and tracking project budgets and project status.
Assist in training, directing & supervision of junior employees and apprentices, inspecting and certifying their work.
Provide a framework of various levels of training and experience to be used when recruiting staff and serve as a mechanism for incremental advancement in responsibility and duties within this position.
Review blueprints and specifications; ensure drawings and specifications will function as designed in environment intended for use.
Ensure accuracy and completion of assigned tasks and projects.
Keep detailed and accurate reports and documentation.
Other assigned work as required.
Work Conditions:
Physical ability to lift up to 50lbs.
Travel to off-site locations may be required.
Safety equipment will be required, e.g. steel-toed safety boots, safety glasses/goggles, etc.
Overtime may be required.
Hazards associated with the trade.
Work both indoors and outdoors.
May be exposed to construction sites.
To Apply:
Email talent@squamish-jobs.com to express your interest in the position.
Ensure your resume and profile have been submitted on http://squamish-jobs.com/apply (you only need to do this once).
Qualified applications received for this role will immediately be forwarded to our client. Those chosen for interviews will be contacted directly by our client.
**IMPORTANT** By applying for this role, you are agreeing to allow Squamish Personnel Solutions to represent you to our client. Please do them the courtesy of replying to any emails or calls that you receive, promptly and professionally even if you are no longer interested in the role.