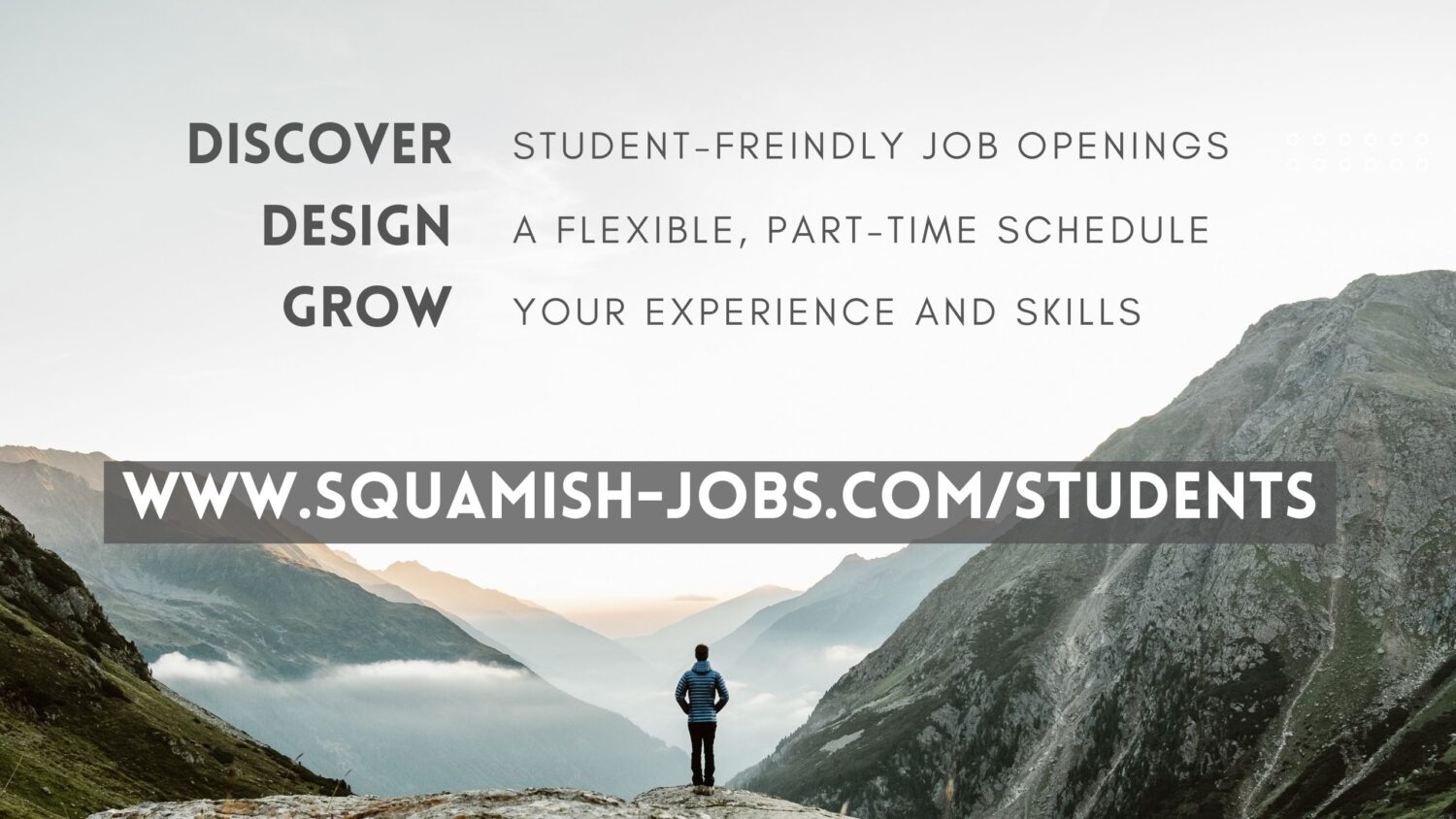 The team at Squamish Personnel is happy to help local students over the age of 14* to find a job that support their need for school-work-life balance.
We do recruiting for hundreds of local businesses in the sea to sky and we've been at it since 1995 – long before most students were even born!
Top Wages: Starting wages are at least $20-$24/hr even without experience and there are lots of opportunities to grow and earn more such as bonuses and tips!
Part-Time Hours:We can connect you to part-time, flexible positions with great employers – our job is to help you figure out which company and job best fits your skills and availability while allowing you to gain great experience.
Our Temp Program is Perfect for Students: You can log in to see our schedule of available shifts then pick which jobs to work based on your availability and interests. Temp and event shifts are a great way to try out a variety of employers and jobs while gaining experience and earning great wages. *Please note: All workers must be 16 or older in order to work temp shifts per BC Standards.
Free Career Guidance Available: There are never any costs or strings to apply for the roles through us or to speak to our job placement specialists. We'll even help you create a professional resume or get ready for your interview. And if you want to know anything about the jobs that we have posted or the companies we are recruiting for, just ask!
Applying is Easy! Simply send us your information and outline exactly what you are looking for. We'll send you a job alert if something comes in that matches your preferences. Create your profile and upload your resume at www.squamish-jobs.com/apply
---
---
Got Questions? Contact Us Anytime!
Student Jobs Division (find part-time or full-time work!)
Email: studentjobs@squamish-jobs.com
Phone: 604-905-4194 extension 2
Job Line Hours: Mon-Friday 9am – 5pm
Book an Interview with Geneive: https://calendly.com/geneive/chat-with-wps
Temp Shift Hotline (sign up for temp shifts!)
Email: info@squamish-jobs.com
Phone: 604-905-4194 extension 1
Temp Hot Line is open 7 days a week 9am-5pm
Book a Time to Enroll: https://calendly.com/wpsteam/