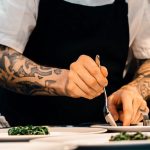 Website squamishjobs Squamish Personnel
The Crabapple Cafe in Brackendale is now hiring for Prep Cook positions. This is a great opportunity to grow your career with one of the local favourite eateries! A flexible schedule, positive team energy and a profit sharing scheme are just some of the other reasons why this is a fabulous, long-term career position.
About the Role:
Competitive salary based on experience.
Full-time or part-time, flexible schedule.
Shifts are 8am – 3pm and available 7 days a week.
Health benefits & profit sharing scheme.
Close-knit and super fun team environment.
The Perfect Candidate:
Minimum 1 year of related kitchen experience with a passion and commitment to learning.
Outgoing, positive and motivated.
Some schooling or professional training beneficial.
Experience following recipes and guidelines.
Must have good knife skills and basic knowledge of kitchen equipment and appliances
Food Safe and WHMIS certification very beneficial or can be provided.
Responsibilities Include:
Cook and prep for a very busy local cafe.
Proper use and knowledge of all foodstuffs, equipment, chemicals, and procedures.
Maintain high personal standards; Wear proper attire, maintain a clean appearance and work in a safe, clean, efficient organized manner.
Work in a timely manner as much as is humanly possible while being cognizant of the importance of every food item served to every client.
Maintain and enforce the highest standards of quality, service, and appearance of all food items that leave the kitchen.
Work with a helpful, team-spirited attitude toward all co-workers.
Be aware of proper rotation of all foodstuffs and help with storage of incoming product.
Oversee work of any junior members of the kitchen team who are under your direction.
Communicate between shifts and with supervisors and team mates.
To Apply:
Ensure we have your resume and profile on file here (you only have to do this once): https://www.squamish-jobs.com/apply-for-work/
If you have created a profile with us already, please email us at info@squamish-jobs.com with your cover letter outlining why you would be a good fit for this position.
We will review all applications and contact candidates who have been selected for further consideration or an interview. Due to time constraints, we may not be able to contact all applicants. If you would like an update on your application, please email us at info@squamish-jobs.com
We are your partners through the next step in your career.