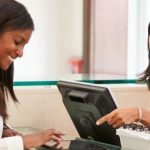 Website squamishjobs Squamish Personnel
- opportunities for career growth!
If you are customer service focused with strong administrative abilities, this is an opportunity not to be missed! Seeking a Receptionist & Customer Service Coordinator for a very busy and expanding local Squamish business offering growth potential, plenty of perks, competitive wage including benefits, and a collaborative & friendly team!
About the Role, Perks and Benefits:
Full time hours working 9 to 10 hour shifts, 4 shifts per week.
The office is open 7 days per week – a mix of daytime, evenings and weekends will be required.
Competitive starting wage based on experience up to $20 per hour.
Regular reviews with potential for discretionary target bonuses.
Comprehensive medical and dental benefits and 2-weeks of paid annual vacation (after completion of eligibility requirements).
Tight-knit team in a very supportive work environment and ongoing team building and management support.
Opportunities for growth within a great team environment.
Annual pass to the Sea to Sky Gondola.
Access to the corporate pass for Callaghan covering day pass and rentals.
The Perfect Candidate:
1+ years experience as a Receptionist or Administrative Assistant is preferred.
Very customer focused; provide exceptional service in a professional manner.
Proficient in a variety of computer systems including MS Office Suite and client management systems.
Focused and motivated self-starter who takes initiative and has an overachieving and 'can do' attitude!
Strong communication skills; able to deal with conflict and crisis situations in a tactful and calm manner.
Highly organized with strong attention to detail; able to multitask and ensure tasks are done in a timely manner.
Enjoys continuous learning and has a thirst for growth and knowledge.
Innovative and embraces new technology and systems; learns new skills quickly.
Responsibilities include:
Greeting clients upon arrival, handling over the counter sales and initiating/completing consultations, booking appointments, settling accounts, answering questions about products and services.
General communications include managing multiline telephone systems, texts and emails.
Opening and closing duties, keeping the reception and exam room areas clean and tidy throughout the day, cashing out, completing the daily follow up list.
Picking up extra shifts to cover holiday time and being a strong team player.
To Apply:
How To Apply:
Our career matching and consulting services are confidential and FREE to job seekers – with no strings or commitments required.
Create a Profile and upload your resume here (you only have to do this once): www.squamish-jobs.com/apply
OR If you have already created a profile with us, please complete this simplified application: https://www.squamish-jobs.com/simple-app/
Tip for Out-of-Town Applicants: If you are currently living outside the area, be sure to tell us about your plans to relocate including if you've already secured or researched local accommodation and your planned arrival date.
We will review all applications and contact candidates who have been selected for further consideration or an interview. Due to time constraints, we may not be able to contact all applicants – but we will try! If you would like an update on your application, please email us at info@squamish-jobs.com or call us at 604 905 4194 ext 2.
We are your partners through the next step in your career.