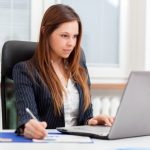 Website Squamish Personnel
- Opportunity to get your foot in the door of a fantastic industry!
This well-established and long-time Squamish law firm is looking for a superstar administrator who is self-motivated, organized and professional to join their team!  Offering a great opportunity to get your foot in the door of the legal field plus career growth, $25 per hour to start and a warm and friendly work environment.
About the Role, Perks and Benefits:
Full-time, year-round, Monday to Friday, 9am to 5pm.
$25 per hour to start depending on experience.
Extended health & dental benefits after 3 months.
RRSP contributions and wellness allowance after 1 year.
Warm and friendly work environment with a close-knit team of professionals.
Very friendly, social and close-knit team with lots of long-term staff.
Perfect for a long-term local with an interest in growing a career with a law firm.
The Perfect Candidate: 
2+ years experience as an administrative assistant or similar role in a law firm is required.
Certificate as a legal assistant is an asset.
Personable and friendly with professional appearance.
Motivated self-starter; takes initiative and able to work with little direction.
Ability to be resourceful and proactive in dealing with issues that may arise.
Strong computer skills: proficient with MS Office Suite plus knowledge of PC Laws is an asset.
Effective communicator both verbally and written.
Organized with strong time management, work under pressure and tight deadlines, and good attention to detail.
Able to work in a fast paced team-oriented environment with a desire to learn.
Responsibilities Include: 
File maintenance and organization, including filing, scanning, photocopying and faxing;
Maintaining bring forward system for limitation and follow-up dates.
Handling incoming and outgoing mail.
Reviewing and filing all correspondence.
Opening and closing client files.
Production of correspondence and legal documents from precedent documents.
Assist with scheduling and preparing documents/correspondence for IME, trial, EFDs as needed.
Assist with production of chamber application materials, including production and filing of court documents.
Interacts with clients and other parties.
How To Apply:  
Our career matching and consulting services are confidential and FREE to job seekers – with no strings or commitments required.
Create a Profile and upload your resume here (you only have to do this once):  www.squamish-jobs.com/apply
OR If you have already created a profile with us, please complete this simplified application: https://www.squamish-jobs.com/simple-app/
Tip for Out-of-Town Applicants:  If you are currently living outside the area, be sure to tell us about your plans to relocate including if you've already secured or researched local accommodation and your planned arrival date.
We will review all applications and contact candidates who have been selected for further consideration or an interview. Due to time constraints, we may not be able to contact all applicants – but we will try!  If you would like an update on your application, please email us at info@squamish-jobs.com or call us at 604 905 4194 ext 2.
We are your partners through the next step in your career.